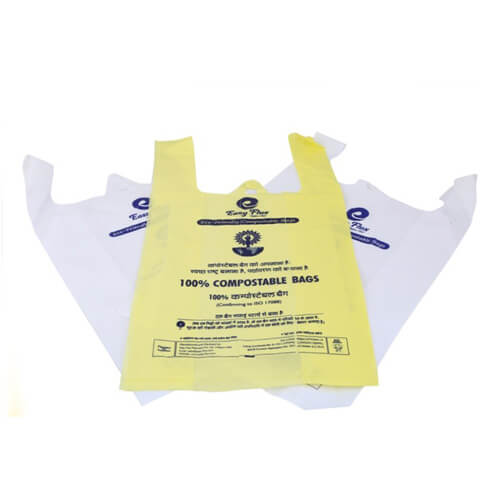 Biodegradable Carry Bags Manufactures in India
TYPES:- W-CUT BAGS/ D-CUT BAGS
We are leading Biodegradable carry Bags Manufactures in India. We offer Variety of carry bags like, Shrink Films, grocery Bags and many others. We feel immense pleasure in introducing our whole new innovative range of Certified Compostable & Biodegradable Carry bags Confirming to IS/ISO 17088 Manufactured as per CPCB using the Cornstarch Based raw material.

Easy Flux is the one of the Best Eco Friendly Bags Supplier in India. These bags converts to manure in 180 Days when comes in contact with clay/ soil/ Moisture and is completely harmless to the environment/ humans/ Animals. Comes in various Sizes and Microns according to the procurements of our clients usage.

No Guidelines are applicable as per the Government has on petroleum based plastic for more than 50 microns.
Eco Friendly Carry Bags
If you are looking for a sustainable and eco-friendly Carry bags, then Easy Flux is the perfect choice for you.
Important Features
Non Hazardous
Non-recyclable
Certified Compostable & Biodegradable
No Boundations for Microns
Easy Digestible for animals
Eco-Friendly
Decomposes fast in supporting Climatic conditions.
USES :
Industrial use/ Household use/ Daily use/ Supermarkets/ Hotels & Restaurants

Commonly Known as:
Vest Bags/ T-Shirt Bags/ Shopping Bags/ Jhablas
Sizes Available :
| | |
| --- | --- |
| BREADTH | LENGTH |
|  (in inches) | (in inches) |
| 8 | 10 |
| 9 | 14 |
| 11 | 14 |
| 13 | 16 |
| 16 | 20 |
| 20 | 24 |
Standard Microns : Min 20 – upto your Choices & Procurements.
Things to Remember : Pieces per kilogram depends on Sizes and microns collectively
Example : higher the microns higher the strength and lesser The pieces/kg & Vice-versa.
Shelf Life : 6Months (Keep in dry & dark place)
Colors Available : Milky White (Standard)/ Blue/ Green/ Yellow/ Pink/ Red/ Black/ Orange/ Purple